APPLY FOR A SESSION: LEAD THE CLEAN ENERGY TRANSITION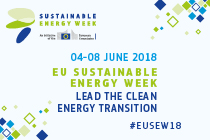 Launched in 2006 by the European Commission, the European Sustainable Energy Week (EUSEW) is trying to move towards renewables for clean, secure and efficient power. The event is organised by the Executive Agency for Small and Medium-sized Enterprises (EASME) in close cooperation with Directorate-General for Energy.
The EUSEW appeared to be an ideal platform for sharing ideas and for forging alliances to bring awareness about an Energy Union based on energy efficiency, decarbonising the economy, research, innovation and competitiveness by bringing together public authorities, private companies, NGOs and consumers. The EU Sustainable Energy Week is an opportunity to meet stakeholders promoting energy efficiency and renewable energies, learn about successful policies and inspire innovation to meet the EU's energy and climate goals.
Do not miss the opportunity to share your knowledge!
If your work supports an economy built on clean, secure, efficient energy, you can take part in Sustainable Energy Week by organising a session or presentation at the Policy Conference. In particular, are welcomed the candidates whose proposal fit the overall theme of 'Leading the Energy Transition'. Applicants will be invited to choose from one of the following formats: Panel discussion, Roundtable, Seminar or World Café (a conversation-based process for generating new insights to a chosen theme for approximately 20 minutes in a group of four or five participants). The sessions will take place between 5th and 7th of June, 2018.
Submit your proposal if you are:
• Representatives of EU institutions, including inter-institutional bodies
• Stakeholders which fulfil the following criteria:
a. Have a mandate to work as multipliers using a widespread network of contacts in Brussels and across Europe
b. Have the mandate to contribute to the development and implementation of sustainable energy policy in Europe
Examples of eligible types of organisations include International organisations, Networks of national, regional/local authorities, agencies, or other public bodies, Industry or professional associations, NGOs working in the field of sustainable development.
(Consumer associations/citizens' groups' Professional event organisers or businesses aiming to promote specific products or services are not eligible.)
Proposals for the policy sessions will be evaluated by the Selection Committee constituted by European Commission officials taking into account the following aspects:
1. Concept, focus and follow-up
2. Relevance of the topic (content)
3. Capacity to mobilise interest (promotion)
4. Novelty, news, innovation
5. Management (level of preparation).
Deadline for applications is on 5th March 2018, 23:59 (CET).
Here is the Application form and guidelines
AWARDS COMPETITION
It will be also possible to apply for The EU Sustainable Energy Awards which recognise outstanding innovations in energy efficiency and renewables. Anyone in the EU can submit a recent project – from a local initiative to an industry-wide programme that could help citizens, industry and the public sector work towards clean, secure and efficient energy.
Assessment criteria, full information and application form are available here