News for our International Master in European Studies: next September an extra edition of our IMES – Evening and Weekend Programme will be added to the training offer. This specific programme is designed for Brussels-based professionals willing to acquire the right skills to become an EU Project Manager and Consultant in EU Funding Programmes. Thanks to a timetable designed for those who are already working, the IMES – Evening and Weekend Programme has trained more than 70 professionals since 2015 giving them an opportunity for a change in their working career.
For those instead looking for an intensive master, the IMES – Day Programme will start as well in September, with its 28th edition. This post-graduate accelerated Master provides students with an in-depth knowledge of the European Union institutional structure, functioning and policies, and with a sound understanding of the EU funding methods and Project Cycle Management tools and techniques. Since 2004 more than 600 students have started their career as EU Policy Advisor or EU Project Manager thanks to this life-changing master in the heart of the "EU capital".
Don't waste this opportunity: choose the right programme for you and enrol now!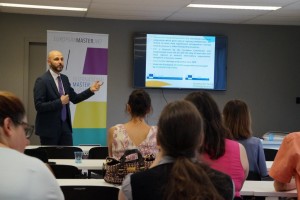 IMES – Day Programme
28th edition: 17/09 – 13/12/2018
Info on: http://europeanmaster.net/day-programme/ 
IMES – Evening and Weekend Programme
5th edition: 18 September 2018 – 31 January 2019
Info on: http://europeanmaster.net/evening-programme/