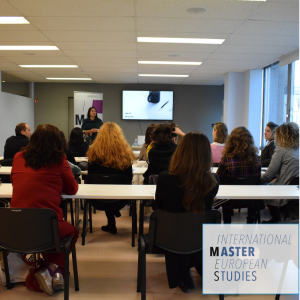 Last week we celebrated the end of the 28th edition of the Master Day. Before awarding the certificate to the students, we had the pleasure to host the expert in Health-related EU policies Marina Sardone, who shared with us her role and personal experience.
Last quarter has been really intensive for our students: they learnt about EU institutions and policies, worked in groups on a real call for proposal and on a European procurement, received personal counseling from an expert recruiter and visited the main European institutions in Brussels. They are definitely leaving Brussels enriched by newly acquired knowledge, skills, tools and awareness.
Indeed, we interviewed them the very last day and it was with great pleasure that we found out that all of them feel their knowledge about Project Management techniques improved and that they would recommend the programme to a friend. We are thankful for all the feedbacks received, which will help us improve what we do day-by-day.
Finally, we are looking forward the launch of the 29th edition and to start a new learning journey with you!