Fundraiser and Grant Executive
Community 

Focus, London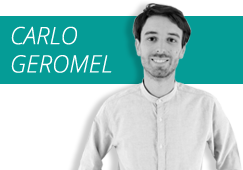 Carlo joined the International Master in European Studies in 2019 and now works as Fundraiser and Grant Executive for two charities based in London and specialized in social fields.
What is your background? Why did you decide to attend the IMES program in Brussels?
I have a BA in foreign languages and an MA in International Relations, both from the Ca' Foscari University of Venice. In 2016, after completing my university studies, I started working in Italy for a social organisation that focuses on disabilities, mental health issues and migration. Precisely, I was in charge of cultural mediation and legal support for asylum seekers and refugees. After 3 years, I developed an interest in project management and how to maximise the impact of programmes on beneficiaries.
Did the IMES program help you to increase you personal knowledge? 
This experience was extremely useful! First of all, because I was living at the core of the EU and Brussels is such an amazing city. I completely felt at the centre of the Union and I met people from several European countries who were experiencing the Brussels Bubble with me.
Secondly, I found precisely what I was looking for: a learning-by-doing Master which gave me a complete view of the way Project Cycle Management works and which jargon and tools are used to write projects and applications. We approached programmes like Erasmus+, Horizon, ESF, EuropeAid, Life and got to know the EU mission and strategy for the next years through the Multiannual Financial Framework 2021-2027. We learnt how European Institutions work and how important it is to live in Brussels to be in contact with the European Commission and its DGs.
Which are the aspects, not only the educational ones, you enjoyed the most during the Master? 
I definitely enjoyed working in a multicultural environment with people from different backgrounds and age groups. When I attended the class there were people from Italy, Germany, Belgium, Serbia, Australia and Portugal. No one knew how to write proposals, so we were all at the same level of knowledge regardless of our educational background.
The most intriguing aspect was the way of teaching, which consisted of working in groups, researching and preparing convincing, technical and tailored made sample projects. It was fascinating learning what was an objective tree, a logframe matrix, a Gantt chart and how useful and necessary they are to write a competitive and successful project.
What is your current occupation?
Right now I'm living in London and I am working as a fundraiser and grant executive for a couple of charities specialised in the social fields. My work consists of writing proposals for small and medium scale grants provided by trusts & foundations and securing new streams of income for those organisations.
I am getting every day more and more confident and am still trying to achieve my goal to work for an international organisation in the international development or environmental field. It is going to be challenging, but I know that with the skills that I have developed attending the Master I will make my dream come true!
Which steps did you decide to take after the IMES to find a job?
After completing the Master I started working for the social cooperative where I was previously employed, but with more responsibilities and as a project officer, assisting my CEO in writing proposals for tenders provided by the Italian National Health Service (SSN). In particular, I worked on projects regarding disadvantaged people with disabilities and mental issues.
Since I had the chance to move to London before Brexit occurred, I started volunteering as a fundraiser for an arts centre and, after securing a couple of small grants, they offered me a job!
Would you say that this course helped you to move your first steps in the Brussels reality?
Attending the IMES Master is the best chance to discover the Brussels Bubble and the European institutions. I used to walk every day in front of the European Parliament and see many MEPs going to work. I personally participated in several conferences at the Parliament and we visited both the European Commission, the EU Parliament and the Europa building (the seat of the European Council and the Council of Europe).
Most of the students who were at the Master with me have started working or attending internships in Brussels and they are very enthusiastic and grateful about that. Once more, if you are looking for a career in European Institutions or European affairs, the IMES Master is the best and fastest opportunity to do so.
Which is the best memory of the Master?
The best memory of the Master was the multiculturalism of our class and of the people I met studying there. The level of diversity is very high and it makes the environment extremely friendly and inclusive. No one is a native speaker, because everyone is from a different member state and so you will start speaking the so-called Euro-English, the pidgin language made out of cultural influences from Malta to Finland, from Portugal to Romania.
Do you think the IMES can make a difference when applying for a job? Would you recommend it to other people?
I would definitely recommend this Master to everyone interested in project management, proposal writing and grants/tenders management, not only for European Funded Programmes but also for other funds provided by international donors, statutory bodies, healthcare systems and private trusts or foundations. The mechanism is basically the same and once you learn one, you automatically know the others so, in terms of job opportunities, you are catching many birds with the same stone.  You will be trained in several topics such as education, environment, innovation, smart cities, digitalisation and humanitarian aid.
If you are looking for a career in international development, the Master is in the English language, which is the common language for international donors such as the UN, the World Health Organisation and the World Bank. At the same time, if you are looking for a career in the public sector or startups that are scouting for tenders for urban regenerations and green investments, you will acquire the appropriate general knowledge for securing new pipelines of income.